Children don't get excited at the idea of visiting the dentist (and the same goes for many adults, too). However, getting a regular dental care is a must for your kids. According to the American Dental Association, children should visit the dentist within six months after their first tooth appears and no later than their first birthday.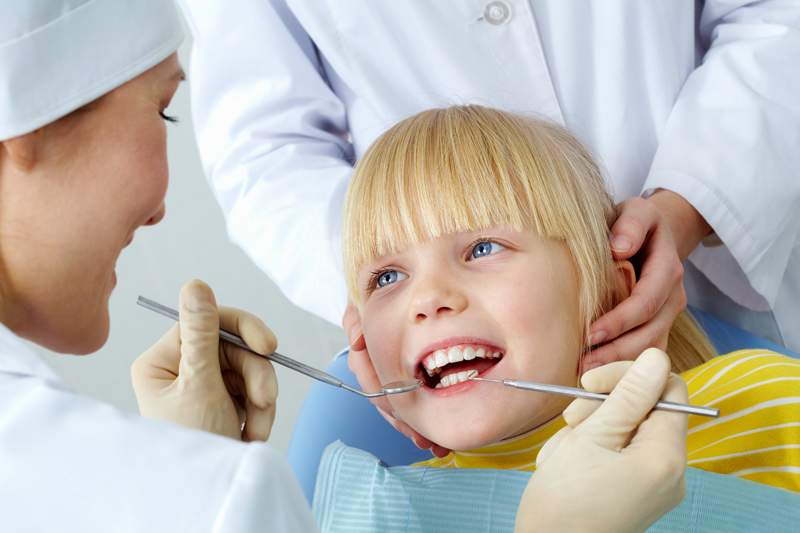 So what should you expect at your child's first dentist appointment? The dentist will examine your child's baby teeth to check for tooth decay and other dental health issues. The dentist will also assess your child's risk for tooth decay. Your child's dentist should teach you how to properly clean your kid's teeth. You and the dentist can talk about habits, such as sucking of the thumb and the misuse of sippy cups, which is bad for your child's teeth.
The Basics of Pediatric Dental Care
Following your child's first appointment with the dentist, he or she should continue to go for regular check-ups at least every six months. In some cases like  cases with children who are at increased risk of tooth decay, your kid's dentist may suggest more frequent visits. Visiting the dentist regularly will help reduce your child's chances of having cavities because his teeth will be cleaned up to remove plaque build-up and a fluoride treatment will be applied to strengthen the teeth's enamel. Your child's dentist will also examine his teeth, jawbones, and oral tissues to look for any potential problems.
Children , sometimes, will need to have a cavity filled or other dental work done for them— but should this bendone if your child still has baby teeth? Dental work is very important even for children who still have their primary or baby teeth, since cavities can be painful, and having a healthy baby teeth is important to help your child chew food, speak properly, and guide permanent teeth into their proper position.
How to make Kids' Dentist Appointments More Pleasant
As a parent, you should help calm your child's nerves and make every appointment with the dentistry go more smoothly. The better experience your child has, the more trust and security he will feel when visiting the dentist and this can promote a lifetime of good dental health. Use these tips to help your child feel relaxed about going to the dentist:
Choose a Pediatric Dentist
Pediatric dentists are dentists that specialize in children's dental health and they are specially trained to calm anxious children. The offices of pediatric dentists are usually designed to be especially welcoming and accomodating to youngsters.
Discuss about the Appointment in Advance
While your child is relaxed, calmly discuss the upcoming dentist appointment with your child. Explain to him what might happen at the dentist's and that the dentist can help keep your his teeth bright and healthy.
Schedule a Sneak Preview
If your kid is visiting the dentist for the first time, you ask if it is okay to stop by before the actual appointment. This will help your child get comfortable in the new surroundings before the check-up.
Stay Close to Young Children
It can help children who are below the age of four if you are nearby during the dental appointment. As you prepare your child for the dentist appointment, don't forget that your attitude has a significant influence on your child's perception of the dentist. If the thought of having a dental work on yourself or your child makes you anxious, do your best to remain relaxed and keep calm when you talk about the visit with your child.